In This Issue
Our fall issue features news about funding for people of color and young adults to participate in longer retreats, a beautiful Kwan Yin given to IMS, our latest wallpaper image and three new recipes. There's also an update on our plans for a more spacious Retreat Center dining room and an app for teacher talks. Check out retreat spaces available and job and volunteer openings.
IMS News
Funding for POC and Young Adults for Longer-Term Practice
We're happy to announce that thanks to generous donations, funding is available to support a limited number of experienced people of color (POC) meditators and young adults (18-32 year olds) who wish to undertake longer-term practice here in 2015.
This is in addition to IMS's ongoing program of financial assistance, which annually supports about a third of our retreatants.
This opportunity forms part of our broader vision to develop more leaders of color within the North American insight community, and to ensure leadership among the next generation of Buddhist practitioners.
For people of color who are unable to afford IMS's usual fees, we're offering a reduced rate to participate in Part 1 or Part 2 of the 2015 Three-Month Retreat. A reduced rate is also available for one month of personal retreat next year at our Forest Refuge.
For 18-32 year olds who are unable to afford IMS's usual fees, we are offering a similar reduced rate to participate in Part 1 or Part 2 of next year's Three-Month Retreat.
Fees are on a You Choose basis. This means you can establish the rate you are able to pay, at or above $17 per night. Details about how to apply can be found here – please help spread the word.
Gift of Kwan Yin
IMS recently received a beautiful, large statue of Kwan Yin, who embodies compassion and is sometimes referred to as "she who hears the cries of the world." This piece of sacred art, donated by IMS teacher Lila Kate Wheeler and her late father, Charles Wheeler, is from China and is about 100 years old.
Lila said of the statue, which she had seen in her father's home for many years, "This Kwan Yin is discreet and never overwhelms you, yet her luminous presence is strong and deepens with contemplative observation. Her face is soft, ageless. The colors and folds of her robe remind us of naturally flowing water – she is both wild and highly civilized. Her body is dynamic yet at rest as she turns and flows from one posture to another, like Ananda whose enlightenment came as he lay down, fatigued from trying too hard. Is Kwan Yin standing up from meditation or is she just about to sit down? Perhaps she's pausing to recall one last thing she wanted to tell us. She seems to be displaying the jewel of her own enlightenment and offering it as a gift – simultaneously."
The Kwan Yin currently graces a hallway in Bodhi House dormitory while we prepare a setting where she will be more visible for all Retreat Center participants to enjoy.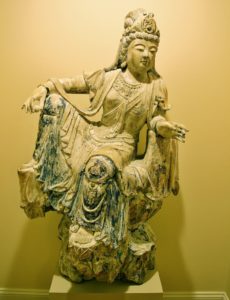 New Recipes
Three new recipes are on our website – Vegetarian Chili and Maple-Bottomed Rosemary Skillet Cornbread to serve with it (below left), and Quinoa and Squash Gratin (below right). We hope you enjoy a taste of IMS!

Retreat Center Dining Room Expansion
Thanks to support from our community, we've already raised over 97% of our $140,000 goal to improve the Retreat Center dining room. Detailed construction plans are now moving ahead, and we're aiming to begin the project next spring. Work will be scheduled to have as little impact on 2015 courses as possible.
We're looking forward to the greater ease of movement and tranquility during meals that this endeavor will allow.
Dharma Updates
App for Teacher Talks
Want to listen to a talk about the Buddha's teachings and the path of meditation while you're on the move? There's now a Dharma Seed app for iPhones that lets you easily stream powerful dharma talks by IMS teachers. Click here to access this rich resource for your practice. An Android app is on the wish list, so check Dharma Seed's News page periodically to learn about developments.
Meditation and the Skeptic
One evening last May in New York City, ABC News Correspondent Dan Harris spoke with IMS co-founders Sharon Salzberg and Joseph Goldstein, and psychiatrist and author Mark Epstein (also an IMS yogi). The theme for their conversation was "Meditation and the Skeptic."
Here are a few excerpts from an article in the November 2014 Shambhala Sun magazine:
Sharon Salzberg: It's perfectly natural when you start meditating to see a huge array of thoughts and feelings you may have been ignoring. This is one of the reasons why it's very reassuring to work with a teacher or have a class, a guide, or a community. They can remind you that it's about being aware of what's going on, not trying to fight it.
Joseph Goldstein: One of the things we learn in meditation is how untrained our minds are. To me, one of the great beauties of the practice is to see the commonality of the experience. While the content, the stories may be a little different, the way we get caught up in our minds – and the way we let go – is exactly the same. So the more we understand ourselves, the more we understand each other.
Mark Epstein: Mindfulness is like a technology that you apply to the mind so that you begin to generate insight into yourself and your place in the world. That brings about compassion.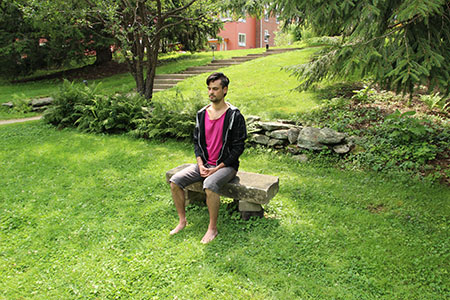 Program Highlights
Over the Summer
At the Forest Refuge, in July, we were honored to host beloved Vietnamese meditation teacher Bhante Khippapanno. Then in August, Akincano came to us from Cologne, Germany to offer the teachings with Teacher-in-Residence Sky Dawson. And last month Sky and Greg Scharf guided our Forest Refuge retreatants.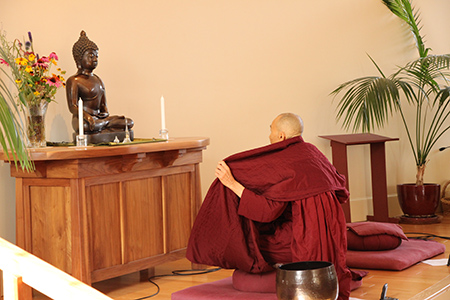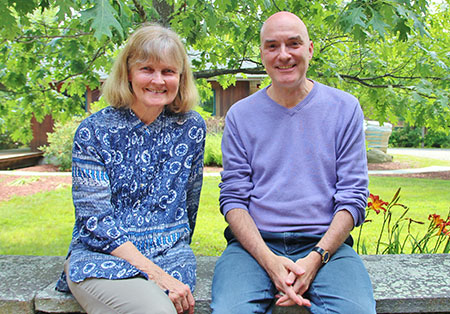 Early in September at the Retreat Center we welcomed participants in IMS's first course for our LGBTIQ gender-queer community.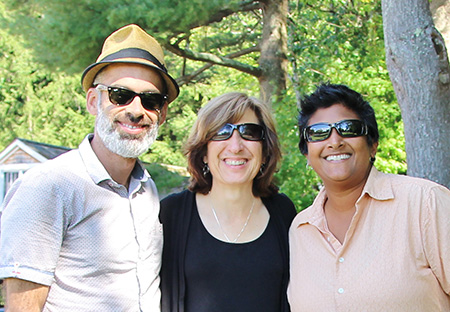 Later last month, Part 1 of our annual Three-Month Retreat began. It's inspiring to see almost 100 retreatants arrive each year for this time of deep, longer-term practice.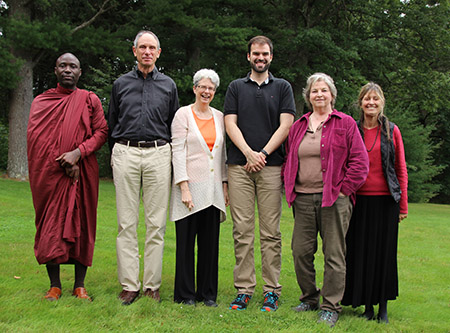 Retreat Space Available
At the Forest Refuge, we currently have a few spaces available during November, when Sky Dawson and Winnie Nazarko will be teaching. In addition to supporting insight practice, they'll be offering meditation instruction and guidance in the four Brahma-Viharas or "divine abodes" – lovingkindness, compassion, appreciative joy and equanimity.
Listen here to Winnie's talk, Compassion and Not-Self.
After November, there are some openings during most months, depending on the dates you're seeking. For more information, contact our office – please email or call us at 978-355-2063.
Check here for the full Forest Refuge 2015 schedule. through December 2015.
Visit our Audio page to download or stream recent Forest Refuge teacher talks.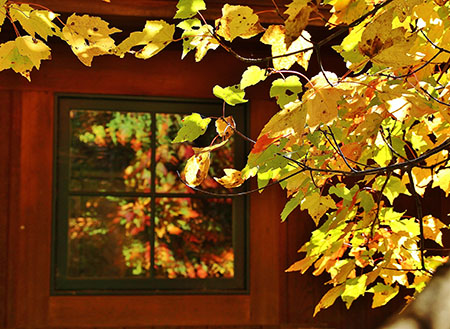 At the Retreat Center, there are still openings in some of our 2015 winter retreats.
The first of these is over the Martin Luther King, Jr. weekend. Clear Mind, Open Heart, January 16-19, will be taught by Chas DiCapua and Anushka Fernandopulle.
Then, Larry Rosenberg and Michael Grady will offer The Art of Mindful Living, a five-day course running February 3-8.
Next, Pascal Auclair and Anushka Fernandopulle will lead a four-day insight and lovingkindness retreat, Heartfelt Wisdom, February 12-16.
For our younger meditators who are unable to afford IMS's usual fees, some You Choose spaces for 18-26 year olds are offered in several 2015 courses.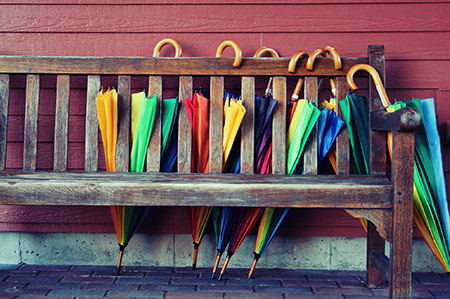 Serving Our Sangha
Job Openings
Currently we have a staff position available for a Facilities worker. Our trusty Facilities team ensures that our grounds and buildings are a harmonious, supportive environment for practice and work.
This position includes optional on-site housing. If you're interested in working at IMS, have the necessary experience and would like to apply, please complete and submit a job application.
Volunteering Opportunities
In 2015 there are a number of openings for Working Guests in our Kitchen and Facilities departments. These are month-long positions designed for those who want to volunteer at IMS and integrate practice with daily life, all within our supportive and friendly surroundings. If you'd like to be considered, please apply.
Wishing You Well
May you and your loved ones enjoy the blessings of safety, peace, joy and equanimity.