A More Diverse and Inclusive Refuge:
IMS's Teacher Training Program
Note: Selection for the Teacher Training Program is by recommendation to, and invitation by, the IMS Guiding Teachers. There is no application process.
In August 2017, twenty meditation teacher trainees gathered at Insight Meditation Society to begin a new four-year Teacher Training Program (TTP). What distinguishes this cohort from previous teacher trainings is that 75% of the participants identify as persons of color, and the group also reflects a broad representation in terms of gender identity, age, country of origin, ethnicity and economic background.
This program marks a significant milestone in IMS's efforts to foster a more diverse and inclusive community of retreat teachers and meditators.
At that initial training session "there was quite a celebratory energy, because this is something that has been coming into existence for quite some time," said DaRa Williams, IMS guiding teacher and TTP core faculty member. "I would actually use the words 'profound' and 'heart-opening.' There was a lot of readiness, openness and willingness among the students, and for the teachers, it was a manifestation of two years of work."
In addition to Williams, the program's core faculty includes Joseph Goldstein, Kamala Masters, Rebecca Bradshaw, Bonnie Duran and Gil Fronsdal, with Carol Wilson and Guy Armstrong contributing. Visiting teachers over the four-year program include Sharon Salzberg and Ruth King.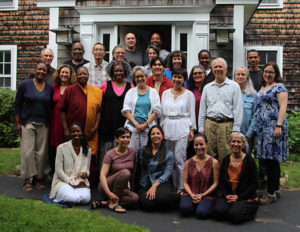 Since the program began, the trainees have met for four rounds of training, learning how to prepare talks about the Buddha's teachings, translate and communicate those teachings for a more diverse, contemporary audience, and respond to issues arising from individual and collective trauma that they may encounter while serving their communities. Core teacher Rebecca Bradshaw observed, "This group of trainees brings in a freshness of perspective that's really exciting."
Significantly, the trainees are also building connections and friendships with one another and the teachers that will be an important source of strength and shared wisdom in the future. Rebecca added, "What's fun to see is in this third round of the training is how much the trainees have bonded together and how much they support each other."
Over the next few years, a rigorous curriculum, together with mentoring and further training sessions will deepen the trainees' ability to transmit the Buddha's teachings of liberation. On graduation in 2021, the new cohort of teachers will carry the collective wisdom of their varied life experiences and perspectives into insight meditation communities throughout the world.