When IMS first opened its doors, our dharma teachers were offered residence in the main building, allowing them to live and learn among their students. Joseph Goldstein and Sharon Salzberg resided on the second floor, above what is now the front entrance area. They enjoyed a wonderfully short commute to the Meditation Hall down the stairs.
As IMS grew, some modest teacher housing was added at Gaston Pond, about a mile from the Center. Later, a few small cottages were built onsite, to add vital living space for our expanding teaching teams and a growing number of teachers-in-training. Still, our retreats became even more popular and we began to feel a housing pinch. As we again considered solutions, we hoped to keep students and teachers in close proximity, as it was in our earliest days.
"One of the challenges in teaching at IMS has been keeping the teaching team in sync with how the retreatants are doing and adjusting the program of instructions and talks as needed," says IMS Guiding Teacher Guy Armstrong. "In recent years, teachers have been housed in four different locations up to a mile apart, making it hard for us to stay in touch."
In response to this challenge, we investigated how we might better serve our community and the idea for a new "Teacher Village" was born. We knew this project would greatly enhance our ability to support our faculty while they are on campus leading retreats. And we knew that supporting our faculty would greatly enhance their ability to support our retreat participants. As we introduced the Teacher Village plan to the IMS community, many people contributed ideas and funding to make our vision a reality.
With construction complete, the Teacher Village now crowns the hill just south of the Retreat Center entrance. Four duplexes provide a total of eight accommodation units. The Commons House offers dedicated meeting space where teachers can gather for discussion and dharma talk planning, and to offer support and guidance to teachers-in-training.
"With the new Teacher Village, Retreat Center teaching teams are all in the same area," Armstrong says. "This will make it much easier to coordinate our teachings, and for senior teachers to spend more time mentoring new teachers. I know we will be able to teach more effectively because of the Teacher Village."
The Teacher Village was created by the generous support of our IMS community. Together, we have created a living and working environment that will benefit many beings, for decades to come.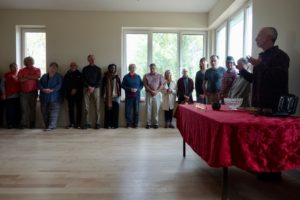 Photo Gallery