Welcome to our first Sangha News of 2018! Here you can catch up on our Teacher Training Program, recharge your meditation practice with Dharma resources, check out current job openings, and find out about retreat spaces available.
The Next Generation of Teachers
Who are our future insight meditation teachers? A good chance many of them are currently participants in our 2017–2021 Teacher Training Program (TTP). In mid-January, this diverse group of 20 dedicated trainees gathered with faculty for their second session, this time at the Insight Retreat Center in Santa Cruz, CA. Their next training will be held in August at the Barre Center for Buddhist Studies.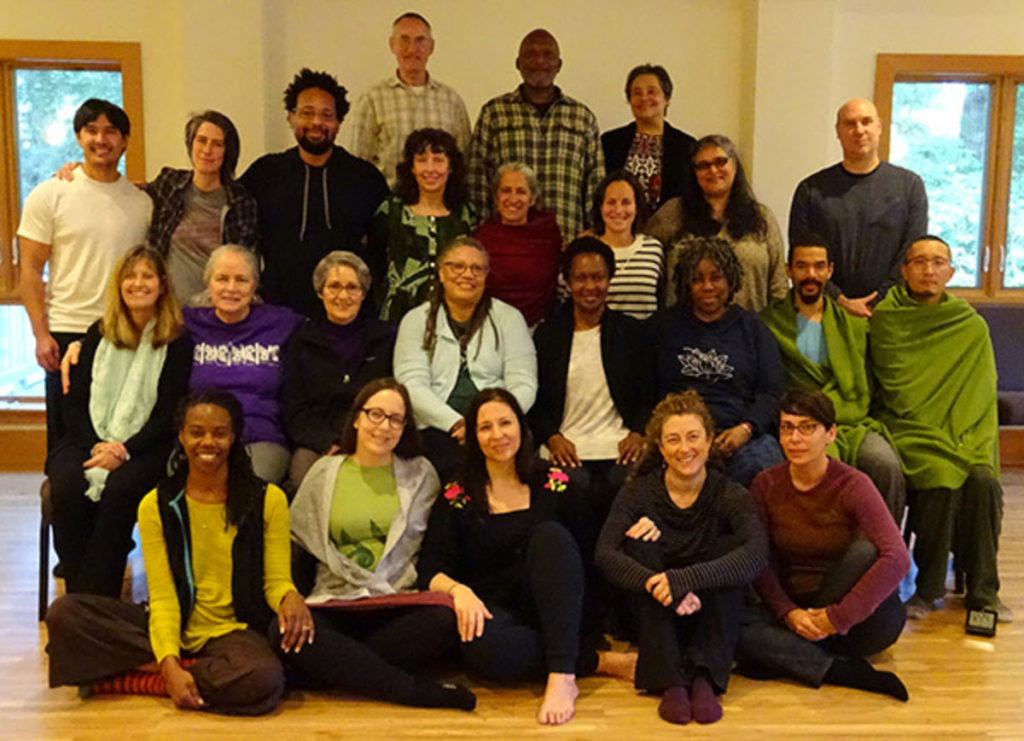 Magic Carpet Ride
How many mindful feet have climbed the Retreat Center foyer staircase in the last several decades? Each step has fallen on the venerable red carpet that extended up the stairs and past teacher meeting rooms. With gratitude for its long service, we're happy to announce that it's now been retired! New carpeting has replaced it, giving a much needed refreshed look, ready to greet your feet on your next visit.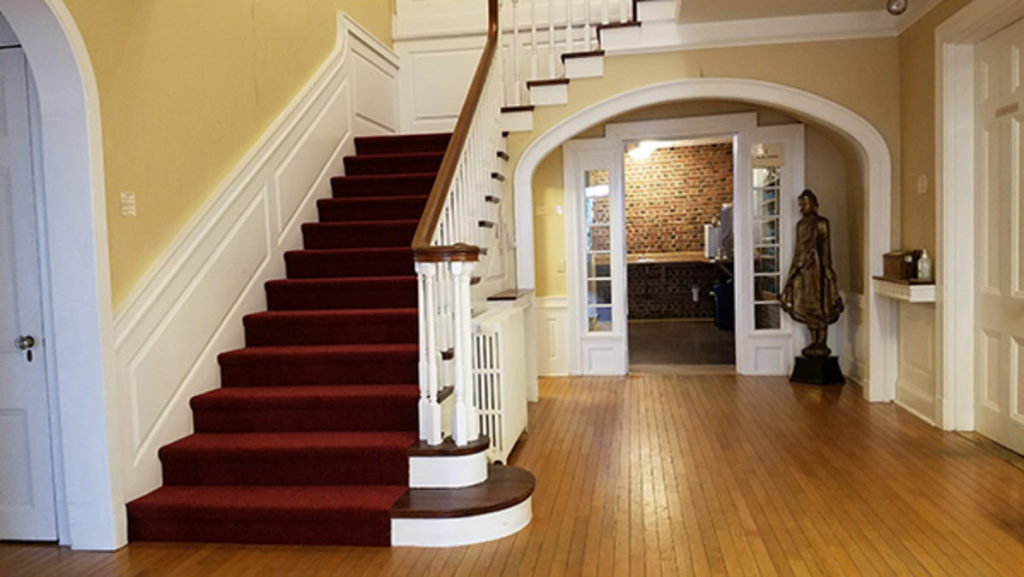 Dharma Resources
More 10% Happier – New course material has been added to ABC News anchor Dan Harris's 10% Happier app, which features several IMS teachers and is designed for those who are "interested in meditation, but allergic to woo-woo." Dan has also interviewed IMS teachers for his 10% Happier podcast.
Just published: Meditation for Fidgety Skeptics: A 10% Happier How-to Book. The book was launched at the end of December on Good Morning America.
Also in December, Dan was in Barre with the 10% Happier crew to film a new course with Joseph Goldstein. In it, Dan and a small audience of meditators talk with Joseph about his hallmark teaching "phrases" – condensations of wisdom from his decades of practice. Look out for this addition later in 2018.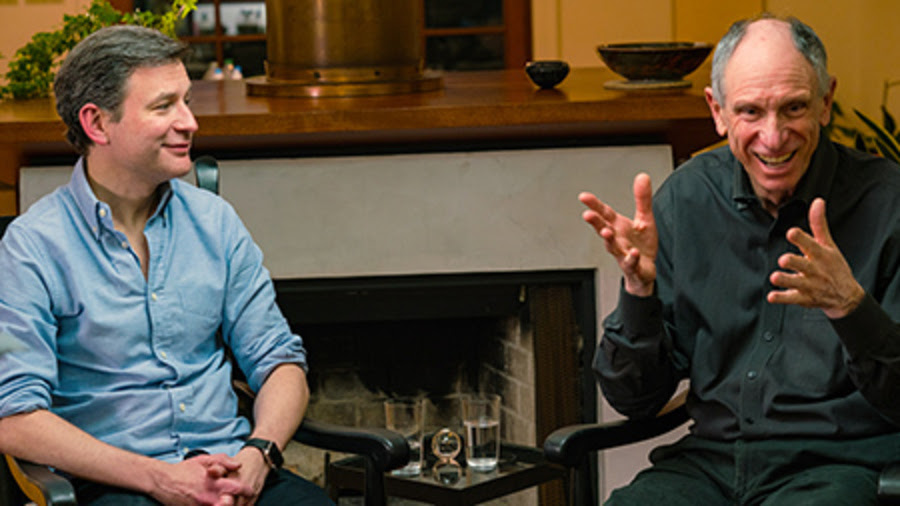 Survival Guide – Also in December, Joseph was interviewed for CBC Radio's "Tapestry." Listen here.
Meditation on a Suffering Planet – This issue, we're highlighting a book by IMS teacher Thanissara. In Time to Stand Up: An Engaged Buddhist Manifesto for Our Earth, she describes the vital shift needed from structures dominated by the values of individuality, hierarchy and goal-orientation to those guided by a more relational and compassionate way of being.
Long Path Home – The life of Larry Rosenberg, former IMS guiding teacher and co-founder of CIMC, has been documented in Larry Rosenberg: Long Path Home. Early in his career, Larry became convinced that Buddhist meditation could help lay people to "effectively face the challenge of relationships in the midst of chaotic daily life." His decades of teaching at IMS and CIMC have impacted the lives of thousands of students.
Serving Our Sangha
IMS is a special workplace – and we're hiring! We currently have a number of exciting job opportunities. Visit our Openings page for more information about the positions listed below, and also to learn about our month-long Working Guest program.
Facilities Manager
Retreat Center Front Office Worker
Cook
Assistant in Communications & Development
Forest Refuge Office Coordinator (part-time)
HR Specialist – Diversity & Inclusivity
Retreat Space Available
At the Forest Refuge, we currently have openings for personal retreats in March, April, May and August. Check out retreat guidelines and information about the application process. For further details, please email fr@dharma.org or call us at 978-355-2063.
Visit our Audio page to download or stream recent Forest Refuge teacher talks.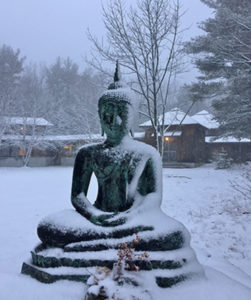 At the Retreat Center, Pascal Auclair will be leading a three-day insight meditation retreat, Heartfelt Wisdom, along with assistants Devin Berry and Kate Johnson, June 18–21.
The following month we'll be offering a course for experienced students: Cultivation – Investigation – Contemplation taught by Akincano, Chris Cullen and Yuka Nakamura, July 15–22.
Then September 4–9, Pascal Auclair returns to IMS with Anushka Fernandopulle to teach Freedom and Ease of Being: A Meditation Retreat for Our LGBTIQ Community, together with assistant Tara Mulay. This course is open to beginning and experienced meditators who self-identify as queer, questioning, trans, bisexual, lesbian, gay, agender, intersex or two-spirit.
Wishing You Well
May our loved ones and communities benefit from the fruits of our meditation practice.