At IMS, we are blessed to be supported by a deeply engaged community of practitioners and donors who value our mission and vision. Many have maintained a long-term relationship with our organization, returning year after year as we have evolved and grown. Others have only recently been introduced, gaining access to IMS through our abundance of online programs and eagerly awaiting their opportunity to experience our campus environment. Every week, some of the dedicated yogis from each group reach out to IMS to ask, "When, exactly, are you going to reopen?"
In early February, 2021, we posed that question to IMS Executive Director Inger Forland who shared her thoughts on the reopening and other related topics.
Inger, when will the IMS Retreat Center and Forest Refuge open to on-campus retreats?
I think about this every single day—not only in terms of reopening IMS, but in all of the ways we have been isolated and restricted this past year. 
It has been such a profound time, with so much suffering for so many. What will it then mean to once again be with those we love in the same physical space, collaborating with our colleagues without a computer screen between us, sending our children off to school, smiling at strangers? 
I wish I could name the date when we'll reopen the centers, but so much depends on how conditions unfold in the coming months with the vaccine and the evolving science around transmission. 
We intend to open when we are sure that we can bring yogis, teachers, staff, and volunteers back into close contact safely. We'll make that assessment with guidance from the CDC and our state department of health, counsel from epidemiological advisors, and in dialogue with our staff, teachers, and Board. It is my hope that IMS will reopen in some capacity later in the fall, and we're taking steps to prepare for that possibility.
As science leads the way, we will continue to explore and refine our thinking. 
When the IMS campus reopens, will visitors be required to show proof of a Covid-19 vaccination before being allowed to attend an on-campus retreat?
We have not formally made this decision, but at this moment I really don't see any way around it, given the nature of what we do and the amount of time people spend with one another at IMS. 
I know that the decision to take a vaccine is a deeply personal one—and it is also true that at this time, we're not even sure when everyone who wants a vaccine will have access to one. But our primary responsibility to anyone who comes to IMS for work or for practice is safety, in all of the ways that we are able to foster it. It is clear that the vaccine is a necessary component of supporting a safer community—and it's not the only one.
Here are some of the other things we are putting in place to support wellbeing and peace of mind for all who love IMS:
Cleaner air: We're enhancing the filtration and air movement protocols in our existing systems and also adding standing air filtration systems in critical areas throughout the buildings. While these steps are recommended for Covid safety, they will also help in cold and flu season.

Dormitory upgrades: We are renovating the bathrooms in the Shanti House dorm to create greater privacy and improve air circulation. 

Food Service and Dining: We are working with a consultant to think through food service and Dining Hall flow. We will certainly be implementing changes in this area—all still to be determined based on expert guidance.  

Campus Safety:

We are upgrading the security of exterior doors at both centers.

IMS Online: We will continue to offer access to teachers and practice through IMS Online for those who are unable to return to campus.

We understand that the vaccine may not be an option for some, for any number of reasons. And while we know there is no substitute for the in-person retreat experience, one thing we have discovered during this period of closure is that very meaningful learning and practice experiences can be achieved online. 
What can you tell us about the future of IMS Online?
It's really such an exciting time to be exploring this question, and to reflect on the ways in which our online platform helps to meaningfully expand access to teachers and the practice. 
During this period of closure, when we pivoted most of our retreats online, we received so many touching notes from people who would not have been able to come to campus—even before the pandemic. For some, the travel was too challenging, or the time commitment was too much, or they had other limitations that made an on-site retreat difficult or impossible. Some had practiced in Barre decades ago and were so happy to be able to reconnect through the online programming. Some noted they were shocked to discover that they actually felt a closer connection with their teacher through the screen than they had when they were sitting 30 feet back from the stage in the Meditation Hall. 
Our pandemic-year experience with IMS Online has not always been easy and has certainly not been perfect. But what we learned is that the online format can augment what we do on-site in ways that truly support IMS yogis. Online also opens possibilities for programming that would simply not be possible in a silent retreat environment. We have just hired a Director for IMS Online and will be working in the coming months to give shape to IMS Online 2.0, with input from our yogis, teachers, staff, and Board. Stay tuned!
What role did IMS donors play in supporting IMS through the extended shutdown due to Covid-19?
I honestly struggle for the sufficient words. IMS donors kept us afloat this past year—and they continue to do so this year. Things could have gone a different way, and it would have been entirely understandable had that occurred; no one has avoided direct personal impact during the pandemic. Candidly, I felt hesitant even asking our community for help because we worried for all of them and their families. But they did help—in greater numbers than ever before. And because of that, we have been able to help—in greater numbers than ever before. 
Because of IMS donors, we have been able to guarantee a baseline of income in the form of dana to teachers who offered online programs; We have been able to offer sliding scale registration fees for online programming, unlimited scholarships, and no-fee enrollment for those who need it; We have been able to maintain the physical campus, even tackling some projects that have sorely needed to be done but were difficult to do during silent retreats; And though we have had to reduce staff, there are still 28 of us continuing to work every day to support this center and its mission. And that, too, is because of IMS donors. I am profoundly grateful.
How will IMS celebrate its 45th anniversary on February 14, 2021?
Oh, this will be fun! Ten of our teachers—including Sharon and Jack—will come together to honor the occasion and to lead us in an online community gathering. The event is open to everyone and I think it will be really lovely to just spend some time together. I'm really looking forward to it. [You can register for the event here.]
In the coming weeks, 20 Dharma teachers will complete the four-year IMS Teacher Training Program. What does this milestone mean for the future of IMS?
It is such a profound moment, to be sure. The teachers who graduate this spring are quite literally the voices that will interpret and share the teachings for the next generation. These are the future elders of the tradition. And given the diversity of lived experience and identity in the group, the richness of their voices and the breadth of their wisdom are extraordinary. They will join the existing body of teachers who help guide IMS as we continue to evolve in service to this place of spiritual refuge. 
I feel a special connection to this cohort because my own journey at IMS began at the same time as their training. I'm deeply honored to know them, and tremendously excited for each teacher as they near graduation and continue on in service and in leadership, in all the ways they choose. 
Will you share three fun facts about IMS that only an Executive Director would know?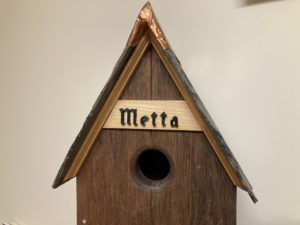 Well, these things are known to others—but I think they're fun!
1) The Retreat Center roof was replaced in 2019, after nearly 100 years in service. One of our staff members at the time, Bill Scaife, gave new life to the old slate tiles from the roof and they now serve as shelter for some of the smaller visitors to IMS. Bill's handmade birdhouses are treasures, and I'm so honored that he gifted me one.
2) Speaking of birds, the stories about the unusually trusting behavior of animals on and around the IMS campus are extraordinary. 45 years of meditation must have an  effect. For instance, the birds that live around the Forest Refuge eat out of our hands. Forest Refuge Manager, Carey Kasky, is the official bird whisperer; even the wild turkeys come running when she steps outside.
3) In IMS's early days, there was a random door dug into a mound of dirt on the property that now houses the Teacher Village. Recognizing the role of solitary space for practice, speculation has abounded about that mound and who might have practiced there. Just this morning, I heard that it may have originated as a root cellar for the old Gaston mansion. We may never know the truth about that door in the middle of a dirt mound…