In This Issue
This summer issue includes an interview on forgiveness with teacher Larry Yang. There's an overview of IMS's visioning process, and a remembrance of meditation master Ven. Sayadaw U Lakkhana, who recently passed away. Learn about plans to improve our Retreat Center dining room, and view the easier access to our Ride Share information. You can download our latest wallpaper image, and read an article about IMS's food sources for retreat meals. Check out retreat spaces available and job and volunteer openings.
Practicing Forgiveness, Practicing Connection
From Linda Spink, IMS Executive Director: Earlier this year, when teacher Larry Yang was at IMS, I asked him about the importance of forgiveness in our lives. In our conversation, he described a forgiveness practice that helps us release the patterns of our suffering, and become more compassionately connected to the world around us.
Download or stream this interview with Larry.
Looking to the Future – A Visioning Process
"As you enter positions of trust and power, dream a little before you think." ~ Author Toni Morrison
Also from Linda: From time to time over the decades since IMS began, we've found it really helpful to explore, in an imaginative yet systematic way, how we might better serve all who come to our centers to sit, teach or support our retreats.
So earlier this year, we embarked on a year-long visioning process to consider where we're at right now, and to dream where we might want to be, say by 2020. In the course of this process, we'll be gathering input from our retreatants, teachers, board members, staff, volunteers and friends. Your collective voices will inform our decisions as we endeavor to turn the most compelling aspirations into wise action.
We've identified several areas to focus our dreaming on over the coming year. Some of them are:
Programming – We want to understand how our retreat offerings can continue to support and deepen the practice of both new and experienced meditators.
Diversity – IMS has already made some advances in bringing greater racial diversity to our community of retreatants, to our board, and among our staff and volunteers. It's become clear that our next step is to increase the number of people of color serving as teachers and leaders within our insight tradition.
Facilities – The generosity of our sangha allowed us to achieve our vision of single rooms for all. Now we'd like to improve our environmental practices and become more sustainable, by reducing our energy consumption and carbon footprint, while increasing our carbon handprint.
We'll also be looking at what work might be necessary as part of the ongoing care of our buildings, systems and grounds.
Teachers and Staff – Without our teachers, IMS couldn't exist. We want to do as much as we can to support their teachings, and to ensure we have a well-trained, highly qualified faculty for future generations of meditators.
We also want to continue hiring and retaining staff who value IMS's work to create a better world, and who appreciate the importance of serving our retreatants.
In closing, I want to thank all of you who participated in the survey about our retreat offerings that appeared in the last Sangha News. Your responses are already contributing to our thinking. Sometime next year, I'll be letting you know the results of this visioning process: our future aspirations and the initiatives we'll undertake to transform them into realities.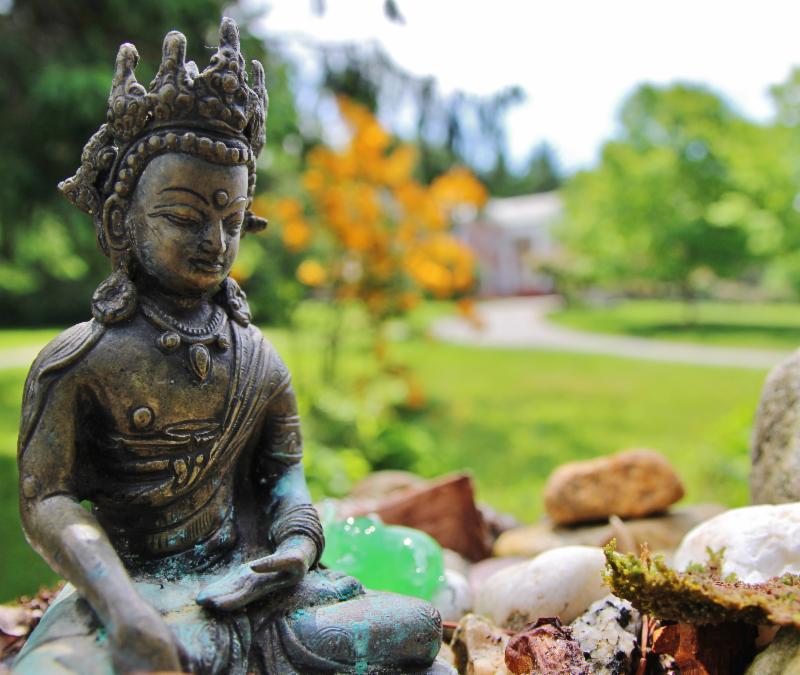 IMS News
Passing of a Beloved Teacher
One of Burma's revered meditation masters, Ven. Sayadaw U Lakkhana, passed away in early June. Instructed by Mahasi Sayadaw and Sayadaw U Pandita, he in turn instructed a number of our own teachers and was a precious link in the chain of teachers who first introduced vipassana (insight) meditation to Western students. His presence and depth of insight will be greatly missed. IMS teacher Greg Scharf shares a story from Sayadaw's first visit to both the US and IMS, in 1998:
"At that time, I had the pleasure and honor of serving as attendant to Sayadaw when he came to IMS to help teach the metta (lovingkindness) portion of Michele McDonald's and Steven Smith's spring retreat.
"Most days, Sayadaw and I would walk to the meditation hall from our lodgings. At one point, I noticed that Sayadaw was whispering something very quietly as we walked along. As I paid closer attention, I realized that he was saying metta phrases in Pali for all the beings that we happened to encounter en route: squirrels, birds, retreatants. It was such a simple, yet moving, example of the quality of kindness that he manifested so effortlessly – the external expression of his internal state."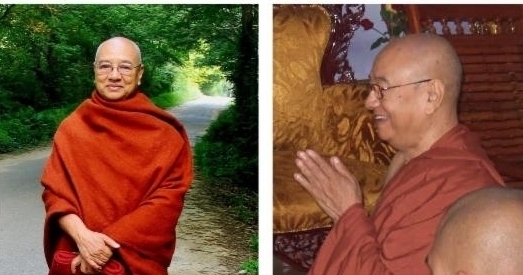 A More Peaceful Mealtime Environment
As our courses have increasingly filled over the last few years, there are times when the Retreat Center dining room becomes quite crowded. We're currently in the midst of a two-year endeavor to expand this area and add other improvements. These are all designed to more effectively support the continuity of practice and the tranquility of retreat life at IMS.
Our plan will:
extend the indoor eating space to create sufficient seating for every meal
add an outside deck for dining during warmer weather
create a second tea station to increase accessibility and relieve crowding
install an acoustical ceiling treatment to soften sounds
The goal for this appeal is $140,000, and we're happy to say we've reached almost 80% of the funds needed. Now we're in the home stretch! Once we've crossed the finish line, we can move ahead with architectural drawings and detailed construction plans, aiming to begin work in earnest next spring.
Ride Share
For many of us, the cost of getting to and from IMS is a significant factor as we plan retreat time. So knowing that a ride is available, ahead of registering for a course, can play an important role in keeping expenses more manageable.
Until recently, though, you had to first register for a retreat before you could get access to our Ride Share information. This made it quite tricky to calculate the total costs involved in sitting a course, and to gauge its affordability.
Thanks to your helpful feedback, we recently improved access to the Ride Share postings. You can now see if rides are available ahead of registering.
We'd like to encourage anyone planning to drive to or from Barre to offer a ride. This generous act could make a vital difference to fellow retreatants wishing to practice at IMS.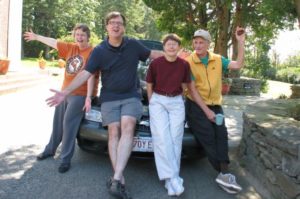 Greater Accessibility
As soon as winter receded and warmer weather arrived here in the Northeast, we began to add the final touches to the upgrade of our Retreat Center front entrance, including installing railings, painting the base of the ramp, and resurfacing some of the semicircular driveway leading up to the front door.
The completion of this project makes the entire facility more accessible to those with mobility limitations.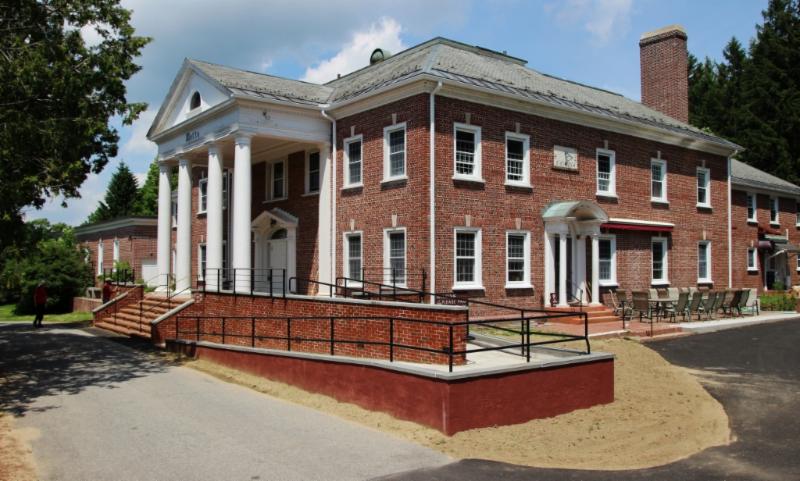 Nourishment on Retreat
We're very much aware how important meals are for those on retreat – they can feel like a high point of the day! So did you know that most of the ingredients in the food we serve are local, organic, or both?
Our Kitchen staff are constantly making informed choices to locate and purchase sustainably produced ingredients with high nutritional content and quality. Currently, all of our dry goods, such as flour, canned tomato products and sugar are organic, as well as all of our soy and corn products. Throughout the year, our lettuce, bananas, celery, carrots, beets, garlic, potatoes, and onions are also organic.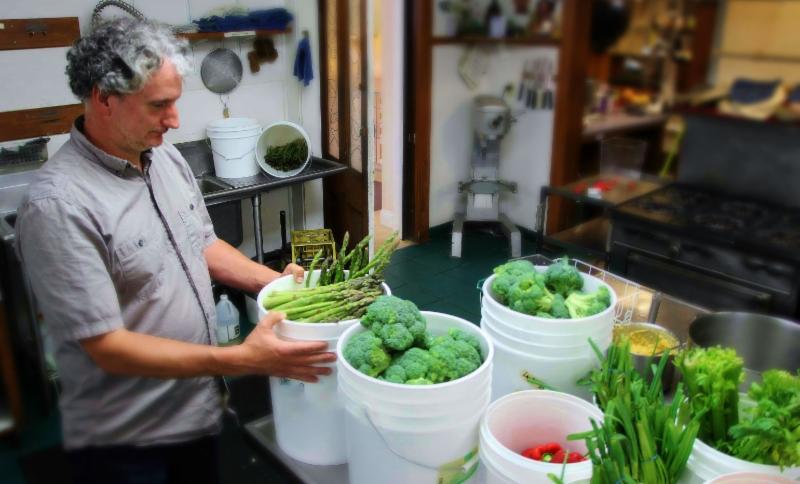 In terms of sustainability, we're particularly grateful to get much of our food from local sources. Our maple syrup and some of our apples and peaches come from neighbors along our very own Pleasant Street. Our milk – free of artificial hormones and antibiotics – comes from cows pastured about two miles from IMS. Our raw honey and cage-free organic eggs are also from nearby farms, as are many of our seasonal vegetables and herbs.
Because of the expertise and dedication of our local farmers, we can serve produce that's not only chemical-free, but in some cases has a higher nutrient density than even most organic produce.
Dharma Updates
Joseph Goldstein on Awakening
IMS co-founder Joseph Goldstein discusses his most recent book, Mindfulness: A Practical Guide to Awakening in this podcast.
Mind and Life Symposium
The Mind and Life Institute has pioneered the field of contemplative science. This fall, the organization will host its 2014 International Symposium for Contemplative Studies in Boston, October 30 – November 2. This is quite an important event in our meditation world – it brings together researchers in neuroscience, psychology, clinical science and education, among other fields, to discuss their latest studies and findings. His Holiness the Dalai Lama will be a keynote speaker, and a number of teachers from IMS and the Barre Center for Buddhist Studies (BCBS), as well as old friends will also present. These include Sharon Salzberg, Andrew Olendzki, Jon Kabat-Zinn, Richard Davidson (of the Center for Investigating Healthy Minds at the University of Wisconsin-Madison), Saki Santorelli and Judson Brewer (both with the Center for Mindfulness in Worcester).
This flyer gives more details. Online registration has already opened.
Program Highlights
At the Forest Refuge
Sayadaw U Vivekananda, the resident teacher at Panditarama Lumbini International Vipassana Meditation Center in Nepal, is currently offering the teachings at the Forest Refuge through the end of June. It's an honor and a delight to host him!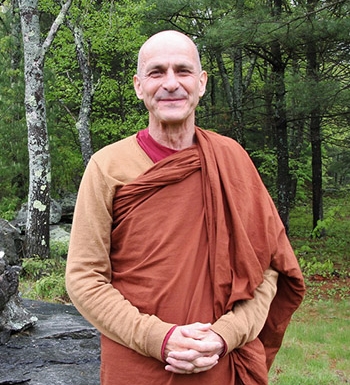 At the Retreat Center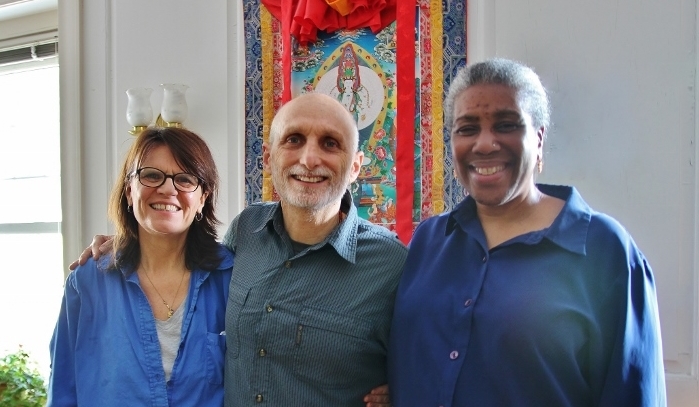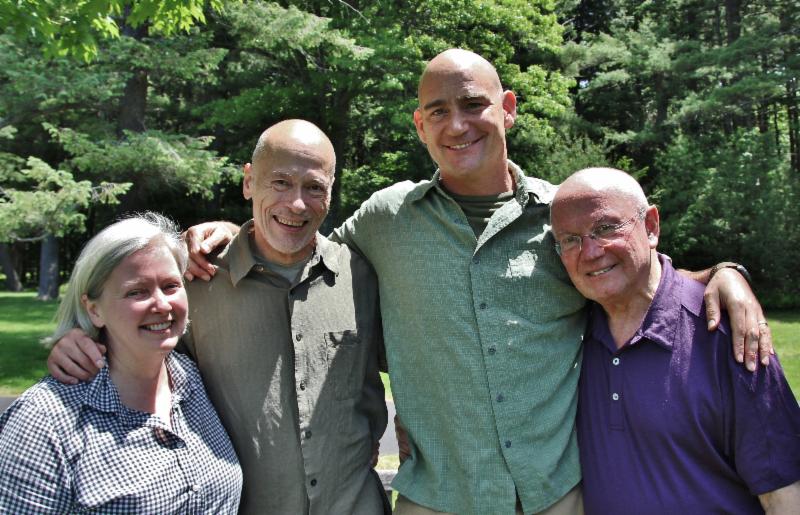 Retreat Space Available
At the Forest Refuge, we currently have a few spaces available during some parts of July and August. More availability opens up from September 1 onward through the end of the year, depending on the dates you're seeking.
Check here for the full 2015 Forest Refuge schedule. And for more information, contact our office – please email or call us at 978-355-2063.
Visit our Audio page to download or stream recent Forest Refuge teacher talks.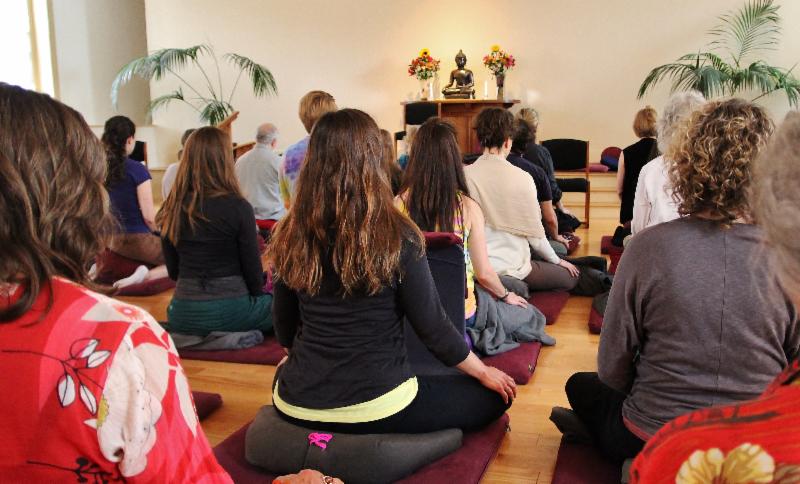 At the Retreat Center, there are still openings in some retreats.
IMS's first insight meditation course for our LGBTIQ community, Freedom and Ease of Being, takes place September 2-7, and will be led by Pascal Auclair, Anushka Fernandopulle and Madeline Klyne. This retreat is filling steadily, so if you'd like to attend, we suggest you register soon!
Then December 18-23, Annie Nugent will offer a five-day course, Living the Buddha's Teachings. If you are 18-26 years old, IMS is offering this retreat on a You Choose fee basis.
Listen to one of Annie's talks, Living the Eightfold Path.
And January 24-31 next year, Christina Feldman, John Peacock and Chris Cullen will teach a week-long course, Mindfulness, Insight, Liberation: The Foundations of Mindfulness-Based Modalities and Research. Educators, clinicians and researchers engaged in teaching or training in mindfulness-based approaches are welcome to attend. Registration is already open for this 2015 retreat.
Serving Our Sangha
Job Openings
IMS currently has an opening for a Cook based at our Retreat Center. Opportunities for meditation and deepening wisdom, as well as for friendships and connecting with like-minded people, are all benefits.
This position includes optional on-site housing. If you're interested in working at IMS, have the necessary experience, and would like to apply, please complete and submit a job application.
Just down the road from IMS is our sister organization, the Barre Center for Buddhist Studies (BCBS). They would like to let IMS's community know that there is a position available in their Buildings and Grounds department, starting in August. They are seeking a sincere dharma practitioner with maintenance and landscaping background to join their staff and live on site. If you are multitalented, committed to service, flexible and self-motivated, and interested in this job, please consider applying.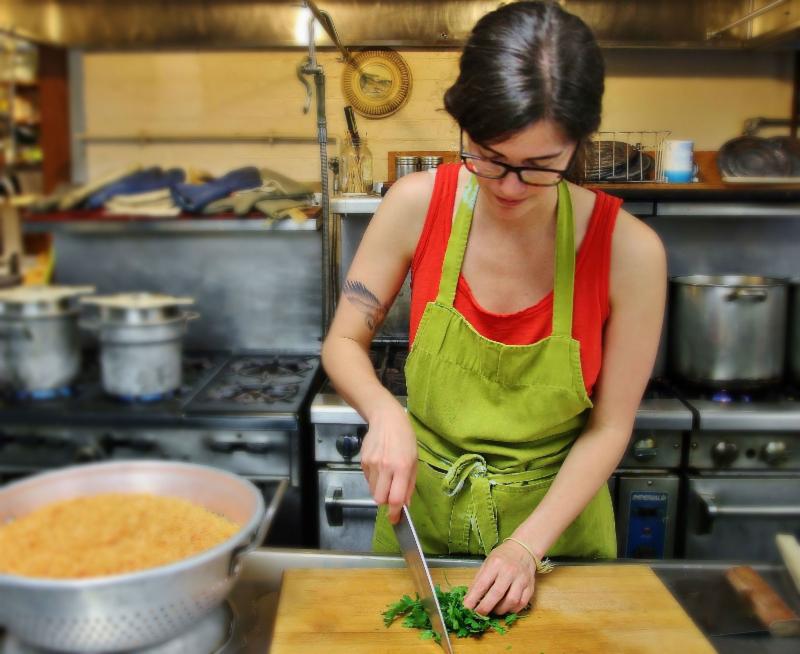 Just down the road from IMS is our sister organization, the Barre Center for Buddhist Studies (BCBS). They would like to let IMS's community know that there is a position available in their Buildings and Grounds department, starting in August. They are seeking a sincere dharma practitioner with maintenance and landscaping background to join their staff and live on site. If you are multitalented, committed to service, flexible and self-motivated, and interested in this job, please consider applying.
Volunteering Opportunities
We're looking for Working Guests to provide extra support in our Kitchen and Housekeeping departments during our summer Family Retreat (July16-21).
You don't have to be an experienced cook or housekeeper to apply for this role.
Summer Wishes
May the coming season bring ease of heart and mind to you, your families and your communities.