Registration for this retreat is closed
Closed
Registration is closed for this retreat.
January 08 - January 13, 2021 (Friday to Wednesday)
Both Webinar and Meeting Format (Some program sessions allow you to see and hear only the teacher, while other program sessions will allow you to see and hear the teacher as well as other program participants).

This online retreat is specifically designed for professionals involved in mindfulness-based approaches, whether as teachers, trainers, psychotherapists, clinicians or researchers.
The course is not a professional training, but rather an invitation to extend and deepen personal experience of insight meditation, which is rooted in the cultivation of mindfulness. Retreatants will explore the Four Establishments of Mindfulness as taught in the Satipaṭṭhāna Sutta, the foundational teachings of all contemporary mindfulness-based applications. These teachings offer a path to freedom and compassion and encourage the integration of contemplative wisdom into the fabric of our daily lives.
This online retreat will offer a sustained schedule of guided and unguided meditation practice, group practice discussions with the teachers, talks and reflections, all within an environment of silence. A familiarity with formal meditation practice is assumed.
Joining this retreat will require your commitment to attending all the sessions* since we are offering systematic meditation instructions that support the deepening of concentration and insight. (*There may be some optional sittings depending on your time zone and the teachers will clarify at the retreat).
The teachers of this retreat are all involved in training mindfulness-based professionals or in teaching mindfulness.
A professional involvement with mindfulness is a requirement for this course, along with either prior completion of a recognized eight-week mindfulness course, or prior retreat experience. Please state this when registering.

22 continuing education credits are available for psychologists, social workers and nurses. Please check our CE page for more information.

Please note that you must register before the 3:00 pm Opening Session on Friday, January 8, to be eligible for CEs.

For this course, sliding scale fees are $240, $310, $390, or $600. We also offer a scholarship fee of $120, and no-fee enrollment for those who request a fee-waiver. Our "Pay What You Can Afford" system supports the cultivation of a dynamic and inclusive community and contributes to the health and vibrancy of the sangha. Select the rate of your choice when you register. Email imsonline@dharma.org for more information or to request a no-fee enrollment.

A note on dana (generosity)
Most IMS teachers—like insight teachers around the world—rely on the generosity of students for their livelihood, and receive no compensation from course fees. All IMS online teachers receive a modest dana advance from IMS to guarantee a minimum level of financial support. (Click here to learn more about the dana practice.) There will be an opportunity to offer a contribution to your teachers at the end of this course.
Schedule for Zoom Session:
Friday, January 8 - 3 pm - 5 pm EST
Wednesday, January 13 - 10 am - 12 noon EST

Schedule for Zoom Sessions - Saturday through Tuesday: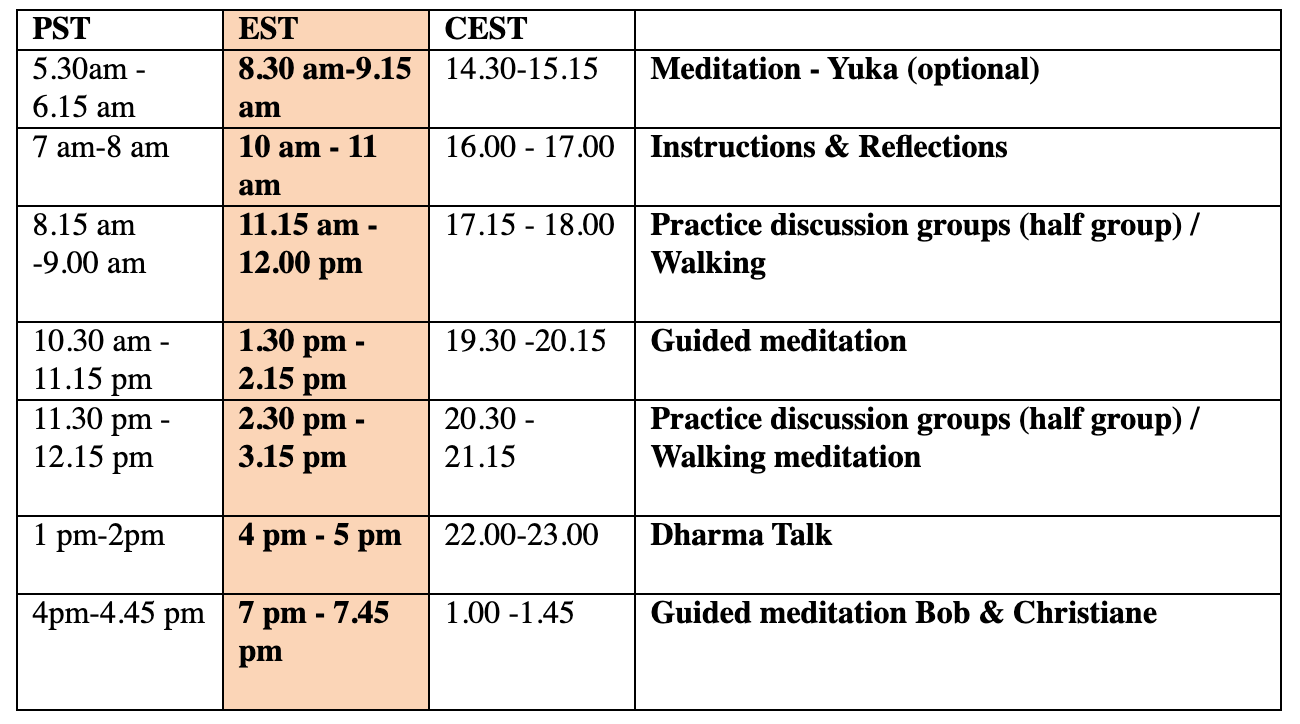 Suggested At-Home Practice Schedule (EST):
6.00 am Sitting meditation
6.45 am Breakfast and mindful cleaning
8.30 am - 9.15 am Guided sitting meditation (Zoom)
9.15 am Walking meditation
10 am - 11 am Instructions & Reflections (Zoom)
11.15 am - 12.00 Practice discussion groups (half group) or Walking meditation
12.00 - 1.30pm Lunch
1.30 pm - 2.15 pm Guided sitting meditation (Zoom)
2.30 pm - 3.15 pm Practice discussion groups (half group) or Walking meditation
3.15 pm - 4 pm Walking meditation / Sitting meditation
4 pm - 5 pm Dharma Talk (Zoom)
5 pm - 5.30pm Walking meditation
5.30 pm - 7pm Dinner
7 pm - 7.45 pm Guided sitting meditation (Zoom)
7.45 pm - 8.00 pm Mindful Stretch

8.00 pm - 8.30 pm Sitting meditation