Emptiness: An Online Retreat for Experienced Students
Guy & Sally Armstrong
Monday, March 1 – Monday, March, 8
Both Webinar and Meeting Format (Some program sessions allow you to see and hear only the teacher, while other program sessions will allow you to see and hear the teacher as well as other program participants).
Teachings on emptiness have been a central theme in Buddhism from the very beginning, pointing to the direct realization of liberation. In this retreat we will introduce and explore the many meanings of emptiness in practice and understanding, including selflessness, insubstantiality, and the nature of awareness. The retreat will feature daily meditation instructions, questions and answers, and a talk. There will also be the opportunity for small group meetings with the teachers.
Prerequisites
Applicants are expected to have attended at least one four-week structured and teacher-led insight meditation retreat, or four similar one-week retreats.
Optional Four-Week Extension
For those who take part in the Emptiness online retreat, there will be the opportunity to register for a 26-day extension taught by Guy Armstrong which will take place immediately after, from March 9 through April 3. The extension will offer two dharma talks a week based on Guy's book Emptiness: A Practical Guide for Meditators. Participants are invited to continue in retreat mode, or attend the talks as part of their normal daily lives. Each session will be 75 minutes and include time for Q&A. Details on the extension will be coming soon.
Fees
For this course, sliding scale fees are $240, $390, or $600. We also offer a scholarship fee of $120, and no-fee enrollment for those who request a fee-waiver. Our "Pay What You Can Afford" system supports the cultivation of a dynamic and inclusive community and contributes to the health and vibrancy of the sangha. Email imsonline@dharma.org for more information or to request a scholarship or no-fee enrollment.
A note on dana (generosity)
Most IMS teachers—like insight teachers around the world—rely on the generosity of students for their livelihood, and receive no compensation from course fees. (Click here to learn more about the dana practice.) There will be an opportunity to offer a contribution to your teachers at the end of this course.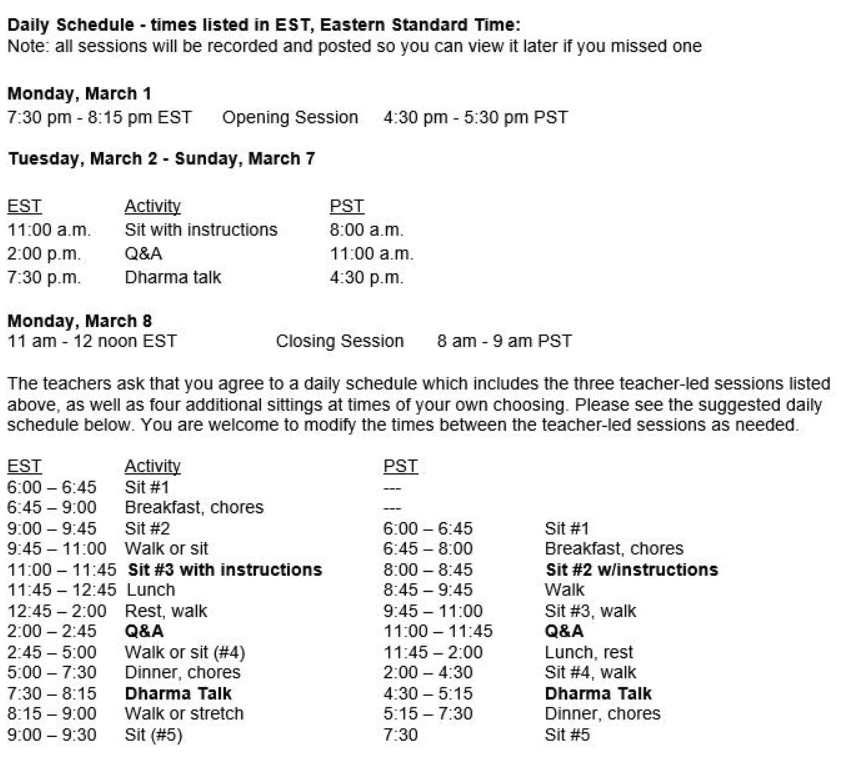 Teacher Bios
Guy Armstrong has practiced insight meditation for over 40 years, including training as a Buddhist monk in Thailand with Ajahn Buddhadasa.  He began teaching in 1984 and has led meditation retreats worldwide.  He is an IMS guiding teacher and author of Emptiness: A Practical Guide for Meditators.
Sally Armstrong began practicing vipassana meditation in India in 1981 and started teaching in 1996. She is a member of Spirit Rock Teacher's Council. and has served as a co-guiding teacher at Spirit Rock. She developed and led Spirit Rock's Dedicated Practitioners Program for many years, and also created the Advanced Practitioner Program. She has a keen interest in supporting students who want to deepen their practice and understanding, and regularly teaches the long retreats at Spirit Rock and IMS.