Foundations of Mindfulness-Based Approaches: An Online Insight Meditation Retreat
Bob Stahl, Yuka Nakamura, Christiane Wolf
and Antonia Sumbundu
Friday, January 8 – Wednesday, January 13
This online retreat is specifically designed for professionals involved in mindfulness-based approaches, whether as teachers, trainers, psychotherapists, clinicians or researchers.
The course is not a professional training, but rather an invitation to extend and deepen personal experience of insight meditation, which is rooted in the cultivation of mindfulness. Retreatants will explore the Four Establishments of Mindfulness as taught in the Satipaṭṭhāna Sutta, the foundational teachings of all contemporary mindfulness-based applications. These teachings offer a path to freedom and compassion and encourage the integration of contemplative wisdom into the fabric of our daily lives.
This online retreat will offer a sustained schedule of guided and unguided meditation practice, group practice discussions with the teachers, talks and reflections, all within an environment of silence. A familiarity with formal meditation practice is assumed.
Joining this retreat will require your commitment to attending all the sessions* since we are offering systematic meditation instructions that support the deepening of concentration and insight. (*There may be some optional sittings depending on your time zone and the teachers will clarify at the retreat).
The teachers of this retreat are all involved in training mindfulness-based professionals or in teaching mindfulness.
A professional involvement with mindfulness is a requirement for this course, along with either prior completion of a recognized eight-week mindfulness course, or prior retreat experience. Please state this when registering.
22 continuing education credits are available for psychologists, social workers and nurses. Please check our CE page for more information.
For this course, sliding scale fees are $240, $310, $390, or $600. We also offer a scholarship fee of $120, and no-fee enrollment for those who request a fee-waiver. Our "Pay What You Can Afford" system supports the cultivation of a dynamic and inclusive community and contributes to the health and vibrancy of the sangha. Select the rate of your choice when you register. Email imsonline@dharma.org for more information or to request a no-fee enrollment.
A note on dana (generosity)
Most IMS teachers—like insight teachers around the world—rely on the generosity of students for their livelihood, and receive no compensation from course fees. All IMS online teachers receive a modest dana advance from IMS to guarantee a minimum level of financial support. (Click here to learn more about the dana practice.) There will be an opportunity to offer a contribution to your teachers at the end of this course.
Schedule for Zoom Sessions:
Friday, January 8 – 3 pm – 5 pm EST
Wednesday, January 13 – 10 am – 12 noon EST
Schedule for Zoom Sessions – Saturday through Tuesday: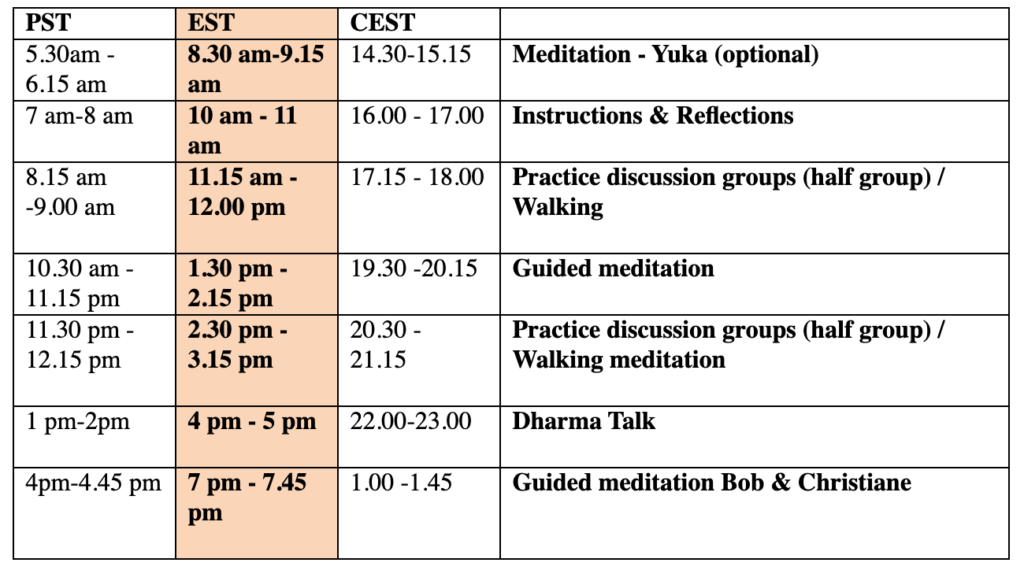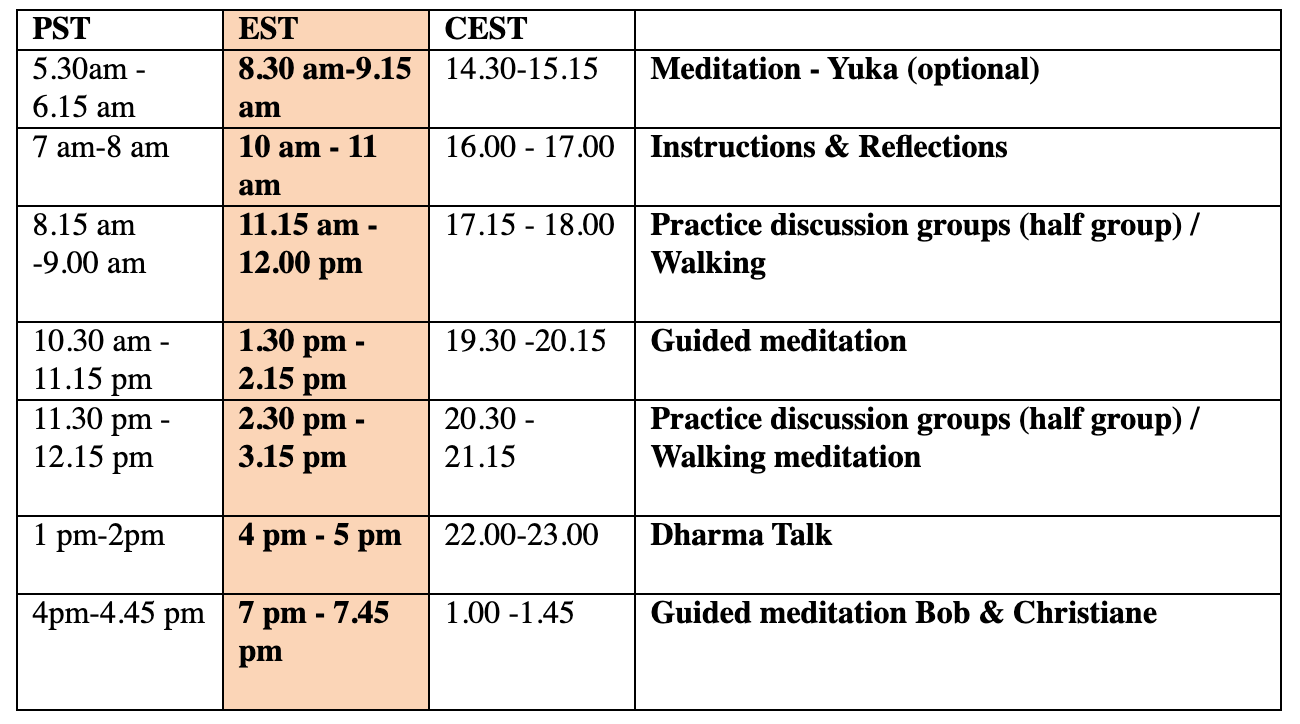 Suggested At-Home Practice Schedule (EST):
6.00 am Sitting meditation

6.45 am Breakfast and mindful cleaning

8.30 am – 9.15 am Guided sitting meditation (Zoom)

9.15 am Walking meditation

10 am – 11 am Instructions & Reflections  (Zoom)

11.15 am – 12.00 Practice discussion groups (half group)
or Walking meditation
12.00 – 1.30pm Lunch
1.30 pm – 2.15 pm Guided sitting meditation (Zoom)
2.30 pm – 3.15 pm Practice discussion groups (half group)
or Walking meditation
3.15 pm – 4 pm Walking meditation / Sitting meditation
4 pm – 5 pm Dharma Talk  (Zoom)
5 pm – 5.30pm Walking meditation
5.30 pm – 7pm Dinner
7 pm – 7.45 pm Guided sitting meditation (Zoom)
7.45 pm – 8.00 pm Mindful Stretch

8.00 pm – 8.30 pm Sitting meditation
Teacher Bios
Bob Stahl, Ph.D., a long-time insight meditator, lived in a Burmese Buddhist monastery in the Forest tradition of Taungpulu Sayadaw for over eight years. He founded and directs mindfulness-based stress reduction (MBSR) programs in three medical centers in the San Francisco Bay Area. He completed MBSR teacher certification at the University of Massachusetts Medical Center. Bob also serves as adjunct senior teacher at the Center for Mindfulness in Medicine, Health Care, and Society at the University of Massachusetts Medical School, and the Mindfulness Center at Brown University. He is the guiding teacher at Insight Santa Cruz.
Yuka Nakamura has practiced Buddhist meditation since 1993 in the Theravada, Dzogchen and Zen traditions. She has a PhD in Developmental Psychology, and is a certified MBSR teacher. Based in Switzerland, she was trained as a Buddhist meditation teacher by Fred von Allmen and teaches at Beatenberg (Switzerland), Gaia House (UK), Insight Meditation Society (Barre, MA), and other places. She is co-founder and teacher at the CFM Zentrum für Achtsamkeit in Zurich and faculty member for the Bodhi College teacher training program. Living in Switzerland, she teaches meditation and MBSR (mindfulness-based stress reduction).
Christiane Wolf, MD, PhD, received her medical degree and completed her postgraduate training in obstetrics and gynecology from Humboldt University in Berlin, Germany. She also holds a PhD in Psychosomatic Medicine from Humboldt University.
Christiane has practiced mindfulness meditation for 30 years, is a senior certified Mindfulness-Based Stress Reduction (MBSR) trainer, and is on faculty for the Center for Mindfulness, University of Massachusetts Medical School. She is a graduate of the 4-year IMS/Spirit Rock teacher training, and is authorized to teach in the Thai Forest Monastery tradition. She is the Director of MBSR programs at InsightLA, and is program director and lead instructor for VA CALM, the national mindfulness facilitator training program for clinicians at the US Department of Veterans Affairs.
Christiane is the co-author of A Clinician's Guide to Teaching Mindfulness. She lives in Los Angeles with her husband and their three children.
Antonia Sumbundu has been a Tibetan Buddhist and mindfulness meditation practitioner for more than 30 years. She is a clinical psychologist specializing in CBT (cognitive behavioral therapy) and supervision, and completed an MSt degree in MBCT from University of Oxford, where she currently is a senior associate trainer. Her work focused on the clinical applications of meditation, before shifting to teach meditation in a broader context, as a teacher in an international meditation community.
Antonia continues to teach MBA internationally along side leading secular and Buddhist meditation weekends and retreats. She mentors individuals, guides practice groups, leads MBCT training programs and classes, supervises professionals in MBCT, and participates in research projects, clinical trials, and developing training components around enquiry and MBCT supervision. 
Guidelines for Your Home Retreat