Current News
The Forest Refuge Celebrates its 10th Anniversary
May 2013 – Friday, May 10, 2013 makred the 10th Anniversary of the Forest Refuge, IMS's center for personal, longer-term retreat practice. Since the facility opened in May, 2003 over 1,500 retreatants sat more than 3,200 retreats for a total of over 84,000 days of practice.
The anniversary celebration, led by lay and monastic teachers, was attended by about 70 friends of IMS including teachers, staff, retreatants and volunteers.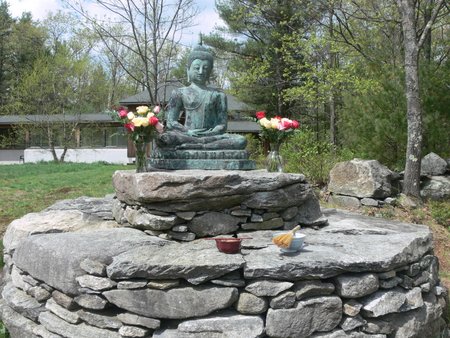 Participants gathered around the Forest Refuge meadow Buddha for the ceremony. Flowers, incense and water were set out in preparation for the blessing.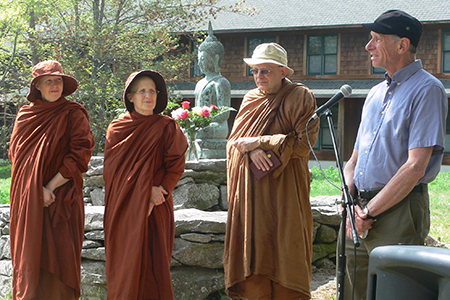 Monastics (L-R) Ayya Nimmala Bhikkhuni, Ayya Medhanandi Bhikkhuni and Ajahn Punnadhammo listened to Joseph Goldstein describe the original vision of a longer-term retreat center for IMS.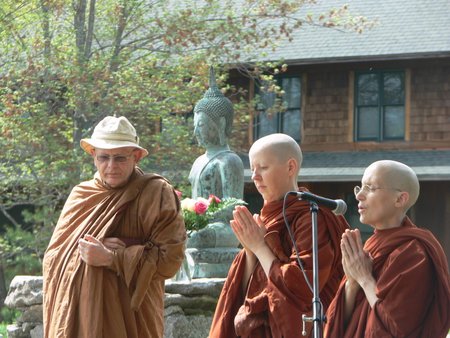 The monastics chanted the three refuges and blessings.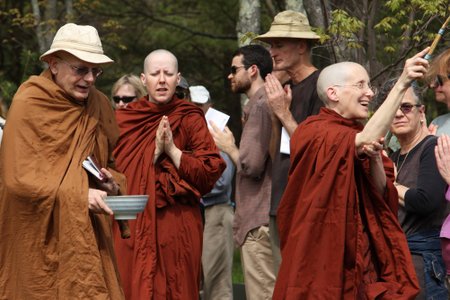 The monastics blessed the participants by chanting and sprinklings of water.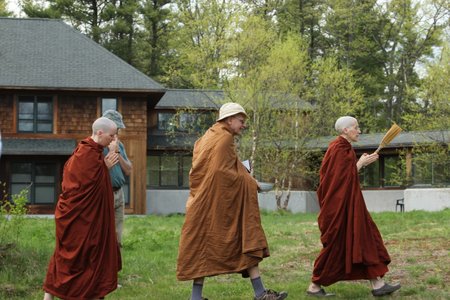 The monastics led the group in a circumambulation of the meditation hall.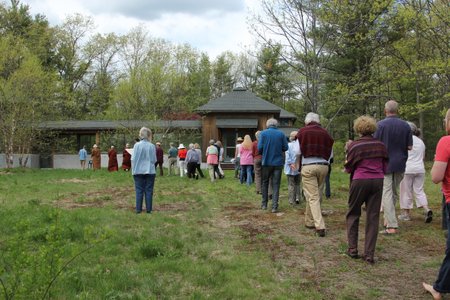 The circumambulation.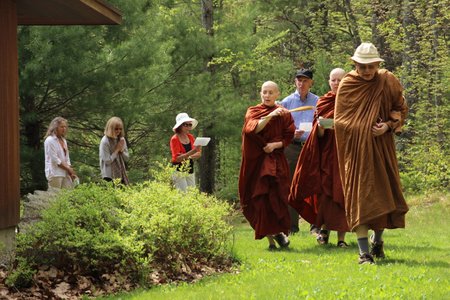 Coming around the meditation hall and heading towards the Buddha.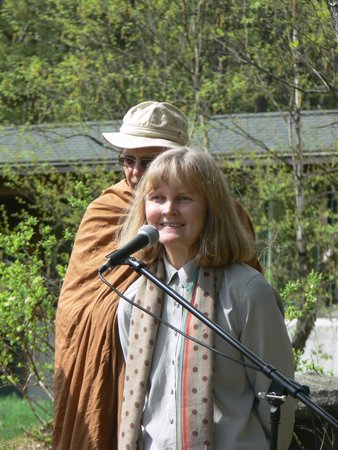 Near the end of the ceremony, Resident Teacher Sky Dawson led us in a guided metta meditation.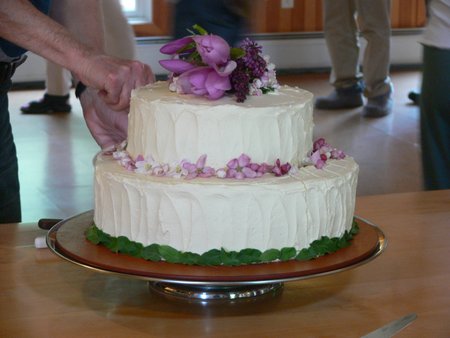 A beautifully decorated cake was served in the Forest Refuge dining room!
Website recognition
March 2013 – We are delighted to announce that IMS's website recently won a Best in Class award from the Interactive Media Council. The competition recognizes excellence in design, content, feature functionality, usability and standards compliance. Our site was one of 239 entries submitted in the nonprofit category for 2012. We are grateful to the team at Gravity Switch, who worked closely lwith IMS staff last year to create a useful and supportive website!
New recipes
Febuary 2013 – Attention cooks! If you've enjoyed meals at IMS while on retreat, we've just added some new recipes from our Kitchen: Tempeh Marbella, Escarole & Bean Soup, Spinach & Ricotta Pie, Butternut Squash Soup, and more!
A longer-term retreat opportunity for people of color
February 2013 Update
Due to overwhelming demand, all funds for this opportunity have been used. If you still wish to apply, we will place you on a wait list for funding to attend Part 2 only, since there are currently no spaces left in either Part 1 or the full Three-Month Retreat. Email registration@dharma.org to request this.
August 15, 2012
Thanks to a generous grant from the Frederick P. Lenz Foundation For American Buddhism, funding is available to support meditators of color who wish to participate in half or all of IMS's 2013 Three-Month Retreat, September 10 – December 3.
By way of background, many people of color have reported two major barriers to sitting longer retreats. One involves finances and the cost of being away from home and work; the other involves a sense of isolation due to the vast majority of other retreatants and teachers being white.
Our intention in providing this funding is twofold. First, we hope over time to help lessen these barriers. If a sizable percentage of those who attend next year's course are meditators of color, this can significantly deepen the sense of belonging and of refuge.
Second, as a result of the retreat experience, some participants will undoubtedly be inspired and better prepared to pursue leadership opportunities within respective meditation-based communities.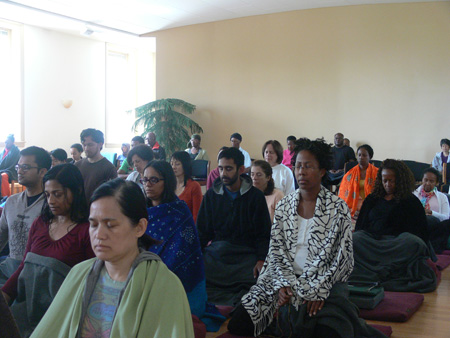 IMS and the Lenz Foundation share a vision of creating more leaders of color within the American Buddhist landscape. We see this particular opportunity as an initial step towards the realization of this vision. (And we understand that bringing this vision to fruition will take much time and effort.)
The teachers for the first six weeks of the 2013 Three-Month Retreat will be Joseph Goldstein, Carol Wilson, Guy Armstrong, Andrea Fella, Winnie Nazarko and Bhante Buddharakkhita. The second six weeks will be taught by Joseph Goldstein, Rebecca Bradshaw, Annie Nugent, Greg Scharf and Spring Washam.
For people of color, this course is being offered on a 'You Choose' fee basis. 'You Choose' means you can establish the rate you are able to pay, at or above $15 per night. This minimum rate translates to $630 for the six weeks of Part 1 or Part 2, compared with $2,420 that is the Base rate of our usual sliding scale fee structure for a retreat of this length.
To sit the full three months, the minimum 'You Choose' fee is $1,260 – this compares with the Base rate of $4,840.
If paying more than this minimum is possible, it will allow additional people of color to receive this funding. But if the minimum amount is still prohibitive, we encourage registration nevertheless – we will do our best to support anyone committed to attending this course.
Registration will open on September 10, 2012. For more details, please click here.
Deepen tranquility, wisdom and compassion